Hockey Prospectus Premium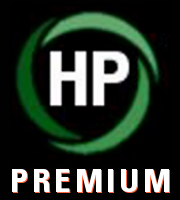 Hockey's Got a New Home
Hockey's Got a New Home
From the team that brought you the Hockey Prospectus 2011-12 annual, and the outfit behind the authoritative, popular Baseball Prospectus Premium, welcome to your source for the best hockey analysis and coverage available: Hockey Prospectus Premium.
Hockey Prospectus is a collection of the game's finest analysts, committed to providing intelligent, high-caliber analysis of our favorite game online and in books, radio, and television.
Each weekday in season, Hockey Prospectus Premium brings you the best hockey content on the Web from its stable of talented writers. Whether it's news, commentary, analysis, or humor, HP's staff brings you the best around on a daily basis--and for hundreds of exclusive Premium articles a year, you'll be paying less than two bucks a month.
Your yearly Premium subscription gets you access to everything at hockeyprospectus.com, including:
Tom Awad's Numbers on Ice and Player Power Rankings, cutting-edge analysis that will dig into hockey's most advanced statistics, with weekly power player rankings.

Corey Pronman's From Daigle to Datsyuk brings you the best in professional hockey prospect analysis. Which prospect is climbing the draft charts, which farm system is stacked in talent and which professional hopeful may want to stay in college and pursue a degree? Corey's got you covered.

Robert Vollman's Howe and Why? uses objective, statistical analysis to examine the news around the NHL, with an eye towards projections based on historical data and translations between leagues.

Philip Myrland's In the Crease is your rundown on goaltending performance around the league. Which goalies are the best and worst? Which netminders look great because of their teammates, and which ones don't get their deserved recognition because of their mediocre supporting cast? Philip examines the evidence to give you the answers.

Jonathan Willis' Angles And Caroms and Kent Wilson's Stats and Fury apply sabermetric concepts to players and teams, to figure out the true reasons behind poor and outstanding performances.

Timo Seppa's Team Power Rankings Timo breaks down each team by offensive, defensive, goaltending, and shootout contributions, matching performances against our VUKOTA projections to let you know which teams are for real and which ones are just paper tigers.

Ryan Wagman's Zamboni Tracks, examines trades and signings throughout the league, providing valuable insight into the significance of each deal and whether teams made the right moves.

Iain Fyffe's Pucks From The Past uncovers forgotten truths about the early years of hockey and applies lessons from the past to today.

Ryan Popilchak's Front Office Focus takes a close look at key contracts and analyzes team construction.

Richard Pollock's Illegal Curve examines the top stories in current NHL action and lays out the most interesting year-to-year big-picture trends.

Corey Pronman's Top Prospects lists. You'll get a preview of the top 100 draft prospects prior to this year's NHL Entry Draft, and a rundown of the Top 10 Prospects for each NHL team over the offseason--all the information you can need to separate the real prospects from the roster filler.

Commenting privileges on all Hockey Prospectus articles. The comment threads at Baseball Prospectus are known for being interesting and provocative without being filled with the trolls, baiters, and clowns you'll find on most major media forums. We'd love to have you on board.

Access to advanced stats including weekly updates of each NHL player's value this season by Goals Versus Threshold.
Already a Premium subscriber?
Well then the news is even better for you--for a limited time only, we're giving Baseball and Basketball Prospectus Premium subscribers $5 off a new Hockey Prospectus Premium subscription. You can add a year of Hockey Prospectus Premium to your existing account at Baseball Prospectus for only $14.98--that's 25% off! Use your same login information to access Hockey Prospectus Premium... it couldn't be easier.
Ready to buy?
You've again proven your wisdom--that's why you're our favourite customer-to-be. Click one of the buttons below to continue.
One year subscription $19.98
One year gift sub $19.98
Sign Up Today
One year subscription $19.98


Get instant access to everything at Hockey Prospectus for only $19.98
Buy a Gift
One year gift sub $19.98


Hockey Prospectus Premium makes a thoughtful gift for only $19.98
A Hockey Prospectus Premium gift subscription is the perfect gift for the hockey fan in your life. Once you've purchased, they'll get an email with a code good for a year's worth of Hockey Prospectus Premium, so they can set up their account the way they wish, and you'll get their undying love and gratitude. It's what we call a "win-win".
Got a BP or HP account?
If you're a current Baseball Prospectus or Hockey Prospectus accountholder, you're entitled to a discount! Please be sure to log in with the blue login bar at the top of the page. You'll use the same username and password.
You Might Also Like
Hockey Prospectus 2010-11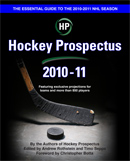 Click for samples and more info