To get a sense of how many points a player will score when moving from the AHL to the NHL, everyone has generally used the 0.45 rule of thumb. Multiply their AHL scoring by that magic number and you can get a fairly accurate picture of how they'll do in the NHL.
Lately, we've been taking a deeper look at AHL-to-NHL translations, and seeing if we can improve on this simplistic approach. For instance, we've explored breaking it down by goals and assists, by direction, by age, and more recently by scoring level, all in a quest to tighten the standard deviation from the 8-9 points you get by using that blanket translation factor of 0.45.
Based on our most recent study, which looked at every player since the Lockout who played at least 20 games in the AHL prior to playing at least 20 in the NHL, we've identified three very distinct patterns based on the age of the players involved.
The first group, generally aged 19-22, are young players either getting some extra seasoning in the AHL, or being kept down for contract-related purposes. As a group, they actually retain not 45% but rather 53% of their scoring when they ultimately make the move up to the NHL, partly because they're young, developing players but also because they're more likely to be legitimate NHL players.
The second group, composed of players between 23-26, are more your classic 0.45 AHL group. These are your depth players, or possibly the late bloomers, and much closer to what Tom Awad would use to describe "replacement-level players".
Finally, there's the group 27 and up, which are generally stuck in the AHL because they're too small, missed their shots, are recovering from injuries, were defensemen signed to ridiculous contracts, or just aren't very good. This is not a high-scoring bunch. In fact, only Jeff Hamilton scored more than 0.50 points per game in the NHL after playing at least 20 games in the AHL at age 27 or up, and only two others (Joel Ward and Mathieu Darche) managed even 0.40.
We'll have time to look at the last two groups later, but let's look at the most interesting group first, the young 'uns.

AHL-to-NHL Translation Factors for Players Under 23
AHL PTS/GP   Translation Factor
Over 1.0           0.37
0.70-0.99          0.43
0.60-0.69          0.50
0.30-0.59          0.57
0.20-0.29          0.63
0.19 or under      0.87

There are two big ledges of players, those scoring in the 0.70 to 1.00 AHL points-per-game range, and those in the 0.30 to 0.59 AHL points-per-game range. The first ledge can generally use the 0.45 translation factor (with some caveats discussed later), and the second ledge can hope to retain 0.57 of their scoring instead.
Additionally, the result can mean ignoring a player's AHL's scoring rate if it's between 0.50 and 0.80 points per game, and just assuming roughly a 0.33 scoring rate in the NHL: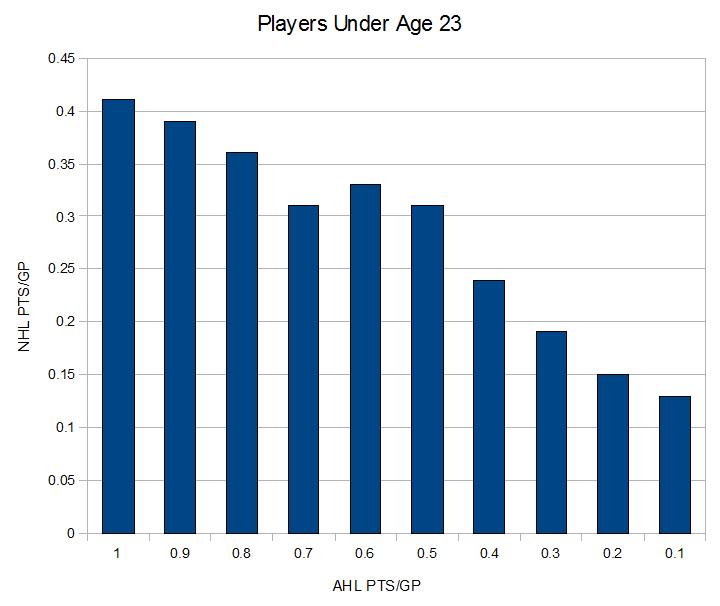 If you draw a straight line through the data you wouldn't get 0.45. A better method is multiplying 0.32 by a player's AHL scoring rate and adding 0.11 points per game. This simple system is better than a straight 0.45 translation factor 58% of the time.
Things Change at 22
There's another important age effect when looking at those scoring at the higher rates of 0.80 AHL points-per-game and up: things change at age 22. Younger players enjoy the average translation factor of 0.46, but the 22-year-olds instead carry just 0.31 of their scoring to the NHL. This effect disappears at the lower scoring rates. Fundamentally, it makes sense because legitimately great players can be in the AHL from ages 19-21 for development and/or contract-related reasons, but not often at age 22.
In our study, high-scoring 19- to 21-year-olds included players like Devin Setoguchi, Bobby Ryan, David Krejci, Kris Versteeg, and Kyle Okposo, all of whom were virtually guaranteed to eventually enjoy NHL success. Many of those who missed, like Vladimir Sobotka, Steve Downie, Valtteri Filppula, Tomas Fleischmann, Eric Fehr, and Ryan Callahan, came around within a year or two.
In fact, are you looking for an edge in your fantasy pool? Grab a young player who missed his AHL translation the year before. The list of 20-year-olds who scored around 0.70-0.80 points per game in the AHL and missed their mark in the NHL include Brad Marchand, Mike Green, Max Pacioretty, Loui Eriksson, and Andrew Ladd—all of whom would have been great additions the year after. If this trend stands, then you might want to keep your eyes on players like Jamie McGinn, Lars Eller, Jiri Tlusty, and Michael Repik.
In any event, 22-year-old AHLers are far less likely to make a bang at the NHL level, either the next year or in years to come. Of the highest AHL achievers, only three went on to match or beat the 0.45 translation: Benoit Pouliot, Erik Christensen, and Nathan Gerbe.
Wrapping Up
We'll unveil more findings as we proceed through the other two groups of AHLers in upcoming pieces, but so far we've learned that one translation factor doesn't fit all. There are at least three distinct groups of AHL players, each in the AHL for different reasons, and each of whom consequently need to be treated differently.
Within each of those groups, there are unique trends, including the different scoring ledges, the odd results in the 0.50-0.79 AHL points-per-game range, the dropoff among highest scoring players suddenly at age 22, and that 19- to 21-year-olds who miss their NHL translation one year are bound to hit it the following season. Stay tuned for more!
Robert Vollman is an author of Hockey Prospectus. You can contact Robert by clicking here or click here to see Robert's other articles.