We've been writing about NHL translation factors from day one at Hockey Prospectus, as the earliest editions of Howe and Why were about translating data from the Elitserien (Swedish Elite League) to the NHL for Victor Hedman, and data from the Russian and Kontinental Hockey Leagues. Every year, we dive deeper and deeper into what we believe is a very important but understudied area of hockey research, and this year will be no exception.
We've already started off the new season with a deep dive into the translation factors we use for players coming from the AHL—a veritable treasure trove of data given the high volume of players who make the move every season. These players have been divided into three categories, the young players, the 23- to 26-year-olds, and the past-their-prime players, each of whose scoring expectations need to be treated differently. Having covered the first two groups in previous articles, we'll cover the final group today, in anticipation of wrapping it up and bringing it all together in a final piece.
Older AHLers
First of all, most of the players who make the jump to the NHL are youngsters. Players aged 27 and over are only 54 of the 496 players who have played at least 20 games in the AHL before playing 20 in the NHL since the Lockout—just a shade over 10%. Legitimate NHLers don't often find themselves in the AHL past age 27. They might be career AHLers acting as emergency depth players, or injured players working their way back up, but very few are simply late bloomers.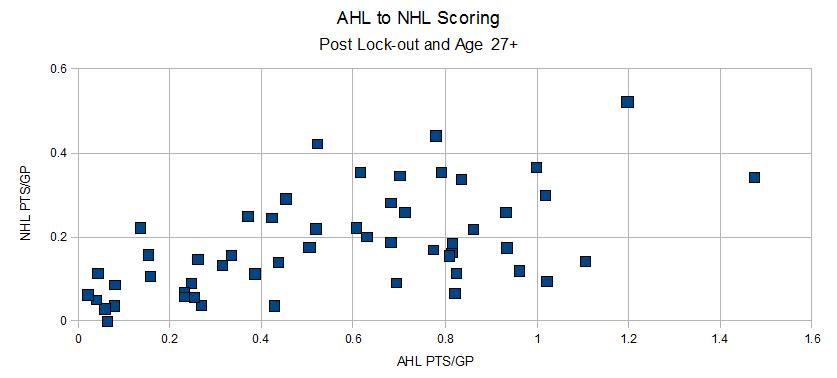 It's highly uncommon for an older player to make the move from the AHL to NHL and have a huge scoring impact. The highest-scoring older NHL player to have played the previous season in the AHL since the Lockout is Jeff Hamilton, who scored 39 points in 70 games with the Chicago Blackhawks at age 29 after putting up 50 in 39 games for the Bridgeport Sound Tigers—and he found himself right back in the AHL later the next season.
Perhaps the only true post-Lockout success story is Joel Ward, seemingly a career AHLer, scoring just 41 AHL points at his peak, until he made a permanent jump to the NHL at age 28 scoring 35 points for the Nashville Predators.
Even highly successful AHL scorers like Keith Aucoin, Denis Hamel, Jeff Taffe, and countless others failed to produce at the NHL level when opportunity knocked. If you had used the classic 0.45 translation factor on them, you'd have grossly overestimated their potential.
Keith Aucoin, a tiny undrafted center, has scored 707 points in 630 AHL games, including 99 points in 65 games for the Albany River Rats in 2006-07 before he was given his first real NHL opportunity with the Carolina Hurricanes at age 29. You might have expected up to 0.7 NHL points per game, but he scored 13 points in 38 games, and has played just 22 NHL games since, despite a whopping 284 points in 195 games for the Hershey Bears.
How about Denis Hamel? Drafted by the St. Louis Blues back in 1995, he played parts of three seasons for the Buffalo Sabres at ages 23 through 25, scoring only 21 points in 127 games. Hamel found his way to the Binghamton Senators and scored 67 and 78 points, followed by a whopping 56-goal, 91-point season in 2005-06, earning his way back to the NHL at age 29…where he managed just eight points in 53 games for Ottawa, Atlanta, and Philadelphia, far less than the 0.53 points per game you'd have expected with the classic 0.45 translation factor.
What to do?
It's not likely for an older AHL player to get significant opportunities in the NHL. Regardless of how well they perform, they'll only get a handful of minutes per game, for a handful of games on the depth lines, making them lucky to score between 0.2 and 0.25 points per game.
If you insist on projecting their performance using a translation factor, don't bother with the standard 0.45—just divide their AHL scoring by three, and keep your fingers crossed.
Robert Vollman is an author of Hockey Prospectus. You can contact Robert by clicking here or click here to see Robert's other articles.